Awards & Community Involvement
We're More Than Just Flooring. We're a Part of Your Community.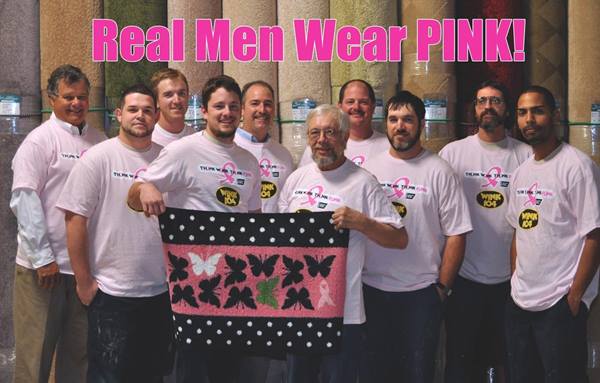 The team at Allwein Carpet One is proud to join the Carpet One co-op in supporting national initiatives including Welcome A Cure, Carpet One Cares and A Green Commitment.
Welcome a Cure to support breast cancer research >
Carpet One Cares facilitates and promotes community involvement at the local level >
A Green Commitment represents our dedication to supporting a cleaner, healthier world through the products & services we offer >
Supporting America's Bravest
The Tunnel to Towers Foundation has presented a specially-designed shadowbox containing hallowed 9/11 steel from Ground Zero to Lee and Sue Allwein along with the rest of the team at Allwein Carpet One.
The shadowbox was presented during a visit from Charlie Gussman of the New York Fire Department, who also serves as an ambassador of the Tunnel to Towers Foundation.
Click here to learn more about the Building for America's Bravest initiative >
Allweins to Participate in the 2016 Tunnel to Towers Run/Walk in NYC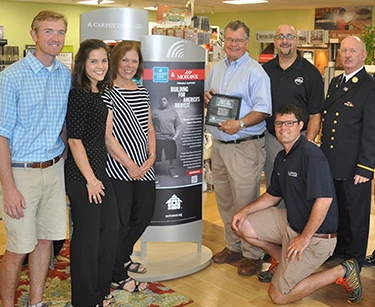 On September 25, my parents, Matt and I will be participating in the Stephen Siller Tunnel to Towers Foundation's 5k Run & Walk in NYC. At this point, there are over 120 Carpet One members and staff planning to participate. They have set a goal of raising $60k for this amazing foundation that works to build smart homes for catastrophically wounded servicemen and women. We are hopeful that we will eventually have the opportunity to be a part of building one of these homes for someone in need. If you know of anyone who might be interesting in donating to our Allwein Carpet One team, share this with them: http://bit.ly/29nSytv.
Thank you!!
Lauren Allwein-Andrews
Local Outreach: United Way of Lebanon County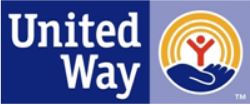 We're also committed to making a difference in our own local communities and neighborhoods, which is why Allwein Carpet One employees participate in the United Way Annual Campaign.
Proudly Serving our Local Community
Voters have chosen Allwein Carpet One as the Number 1 Carpet/Flooring Service in the Lebanon Valley for the fifth consecutive year!